Dozens of volunteers and staff took to Hermosa Creek Trail to kill weeds, plant seeds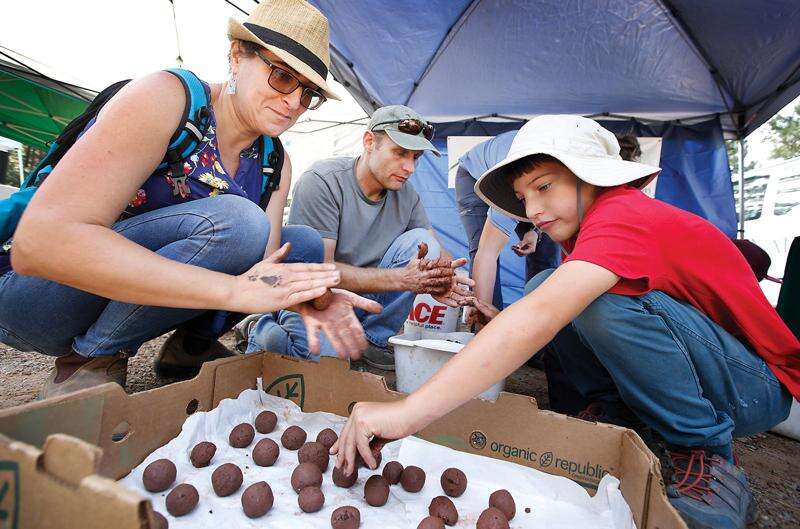 HERMOSA – Lilly and Simon Ruybalid had a long weekend and a lot of options. So, they turned to Facebook to find something to do.
The teens like helping – Simon, 15, is a Boy Scout and Arrowman with the organization's national honor society, the Order of the Arrow. He calls it "a brotherhood of cheerful service." Lilly, 13, said her brother's membership with the Boy Scouts of America has encouraged her to serve, and "this sounded pretty cool."
Lilly and Simon marched with about two dozen other people Saturday morning into the Hermosa Creek wilderness armed with shears, hand shovels and paper bags full of native seeds packed into earthen balls molded by local children for "Hermosa Resilience: A Community Event."
Volunteers and staff members with local nonprofits – including the San Juan Mountains Association, Trails 2000, Mountain Studies Institute and Durango Nature Studies – stood on burned earth peppered with charred bark.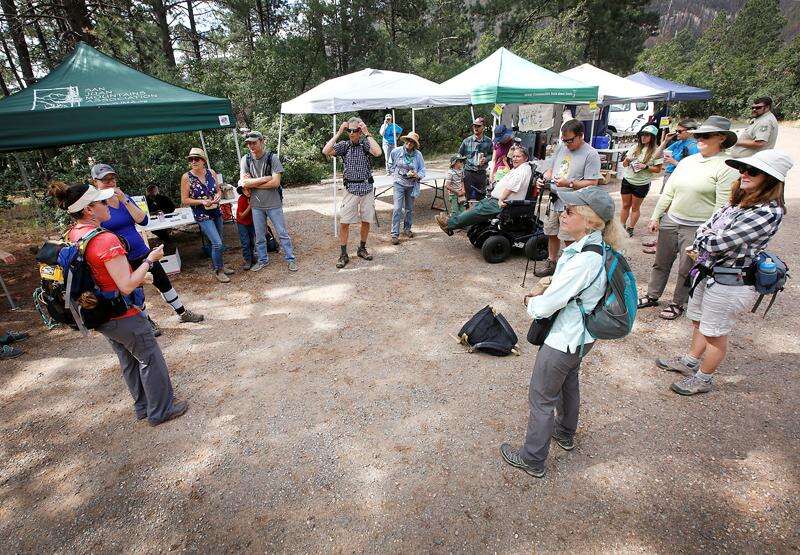 Brent Schoradt, executive director with the San Juan Mountains Association, said the idea for "Hermosa Resilience: A Community Event" came in early June over coffee with Mary Monroe Brown, executive director with Trails 2000.
As part of the program, Monroe Brown and Trails 2000 led a group on mountain bikes 3 miles in to do trail restoration from damage caused by post 416 Fire runoff.
"Everyone was devastated that this beloved place was burning," Schoradt said of the 416 Fire, which burned 54,000 acres of the San Juan National Forest last year. "We all have a role to play – we hope this is empowering the public in management of our public lands."
Amanda Kuenzi, community science director with Mountain Studies Institute, lead the Ruybalids' group of 20 – one of three equal-sized restoration squads hiking the Hermosa Creek Trail – into a sunlit, hillside meadow cramped with non-native thistles. Tall ponderosa pines once shaded indigenous grasses, flowers and shrubs in the not-so-far-off-the-trail open space.
Kuenzi said the invasive thistle now thriving around Southwest Colorado has impacted pollinators, which in turn has impacted food grown around the region.
She showed volunteers how to uproot and shear the 5-foot tall, purple-flowered plants. She encouraged them to toss a few seed-balls – about the size of an extra-large, deformed marble – made of clay, sand and compost to encourage growth of the native grass, flower and shrub seeds inside them.
They left the invasive thistle, cut at the root and the bulb, to rot.
Local students molded about 1,500 wet seed-balls, with Kuenzi's help, dried them in the sun and put about a dozen of each in hundreds of paper bags.
Columbine District Ranger with the U.S. Forest Service James Simino, who has been on the job three weeks, said it "is really amazing" to see the parking lot full and so many people eager to help.
"Durango is an outdoor mecca, and this really helps me out," he said. "I hope people get an appreciation for what the Forest Service goes through – it's a whole lot of work."
Lilly Ruybalid remembers standing on a mountain ledge and seeing fires burning in isolated locations – it looked pretty cool, she said. But when she got back from her hike and later saw the damage done, her first thought was, "what can I do to help?" she said.
"Sometimes, fires burn naturally, but this time, it almost seemed like it went too far," she said. "It's cool to see life grow, and I want to see it (the Hermosa Creek wilderness) in a healthy place."
bhauff@durangoherald.com
An earlier version of this story misspelled Amanda Kuenzi's name in multiple instances. Also, Brent Schoradt's last name was misspelled in one reference.