Gil was found whimpering under a tree in Arizona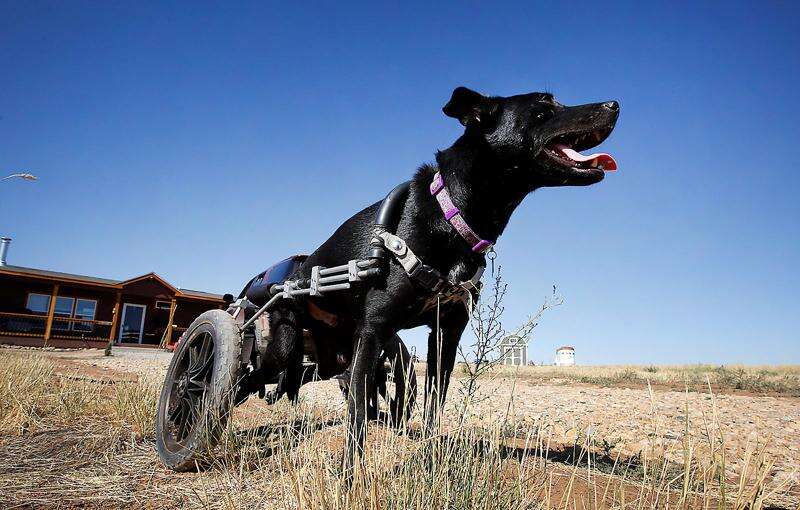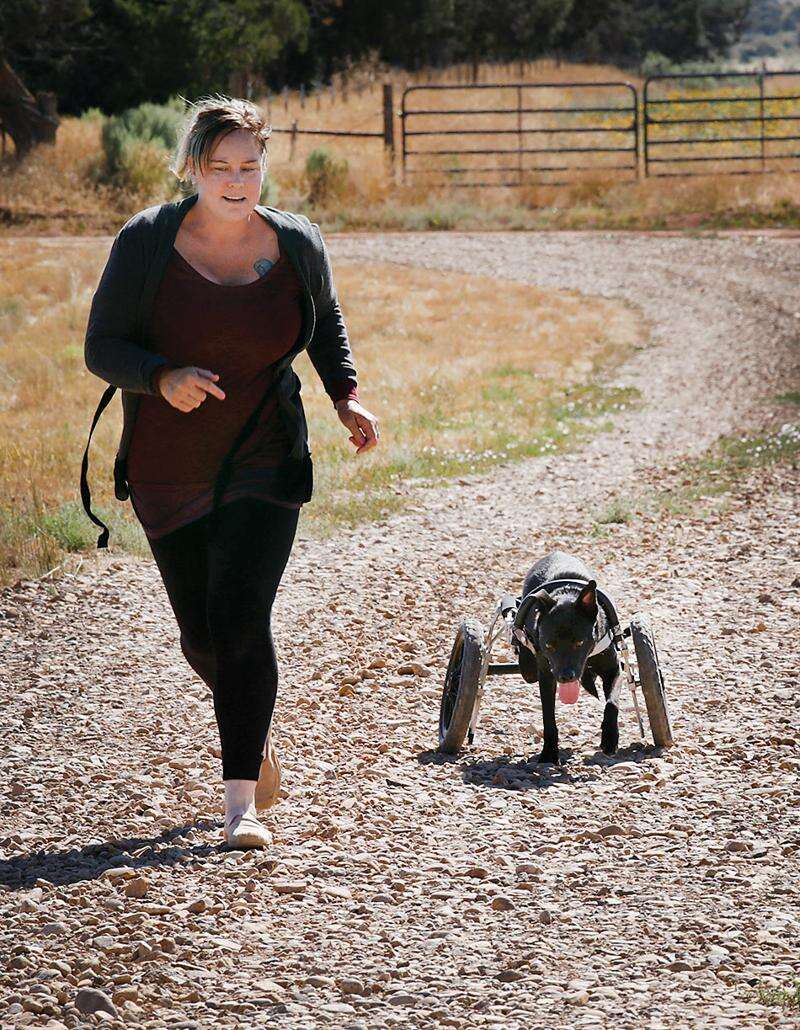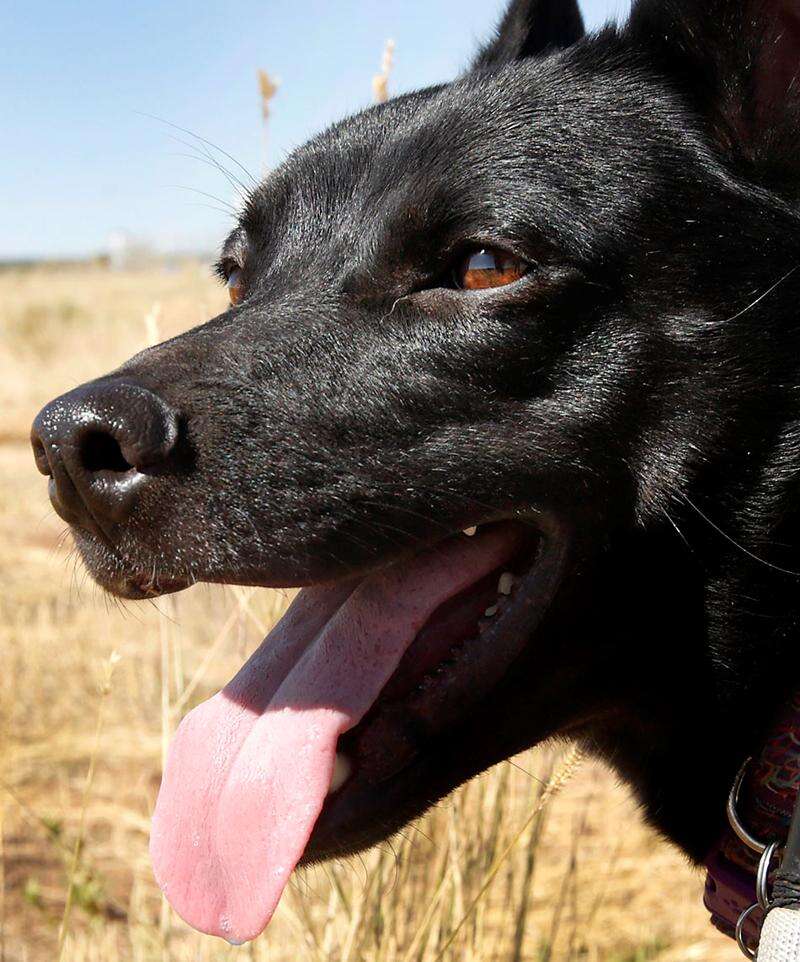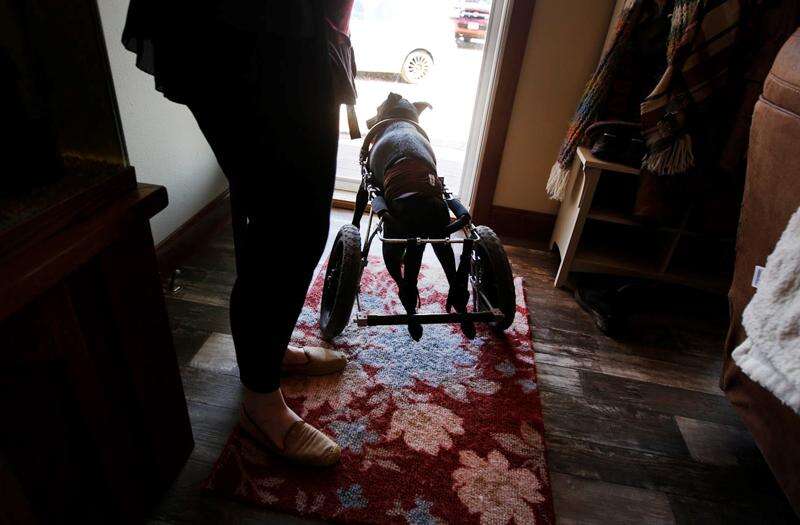 RED MESA – Gil "the wonder pup," a paraplegic dog from Arizona, completed his journey to find a "forever home" when he arrived last week in southwest La Plata County.
Gil's journey started more than 400 miles away on the San Carlos Reservation where a family found him whimpering under a tree during a rainstorm.
An unknown person had shot Gil point-blank a couple of weeks earlier, and Gil was in bad shape. The young pup's underside had been ravaged from crawling across the ground, and he suffered gastrointestinal issues. His outlook didn't look good. The family surrendered Gil to a local veterinarian; he was likely to face euthanasia.
His journey gained momentum when a woman adopted him from the veterinary clinic.
Donations poured in to assist Gil and his foster owners on the road to recovery, including surgeries and supplies. Whoever shot Gil got him in the spine, removing any chance of Gil walking on his own again. He now walks with the help of a wheelchair made just for him.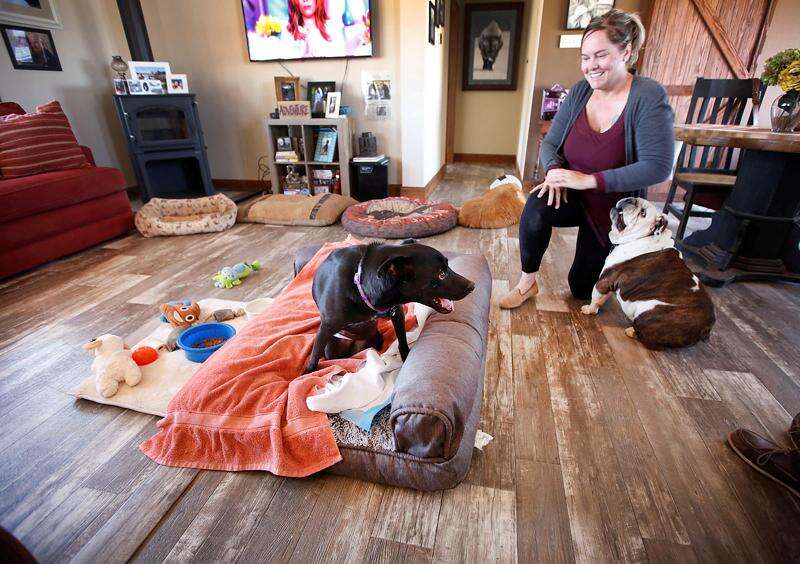 Although Gil's foster owner, Kim Kelly, wanted to keep him, she knew her lifestyle wasn't suitable for Gil in the long-term, and that eventually when he was healthy she would put him up for adoption. She took him to adoption events and advertised online. She eventually found Gil a home this summer when Alena Alvarez-Mroz, a New Mexico woman who recently moved to a Colorado ranch, found him advertised on Facebook.
Alvarez-Mroz said meeting Gil for the first time was an emotional mix: she said it was a dream come true, she but also felt scared and nervous.
Gil, believed to be about 2 years old, isn't the only four-legged resident at the Hermosa ranch; he joins seven other dogs, chickens and alpacas. His new home allows him "freedom" and an open area to run. The 40-acre ranch features a gravel driveway and dry, long grass surrounding the house.
Alvarez-Mroz takes Gil for walks on the property six to eight times a day. She reports he is assimilating well to his new environment.
She takes him out to the main road where he can use his wheelchair easier.
"He really picks up speed," Alvarez-Mroz said.
Gil has been fascinated by a ferret and a cat that share the ranch with him, his new owner said, adding that it may be a reaction to his survival on the reservation.
"I don't know if he knows that there's something different about him," Alvarez-Mroz said. Gil tires out more quickly than the other animals, but he plays with them just the same.
Before arriving to Hesperus, Gil underwent surgery to remove the bullet and "intense" physical therapy, and continues to face challenges.
Kelly said his current condition is where he will be for the rest of his life.
Gil's injuries rendered him bowel and urine incontinent, and he requires help from his owners to go to the bathroom. Alvarez-Mroz must squeeze on his bladder and check his colon several times a day.
Alvarez-Mroz said she has been rescuing animals for many years and wanted a disabled dog, so she purposely searched for one.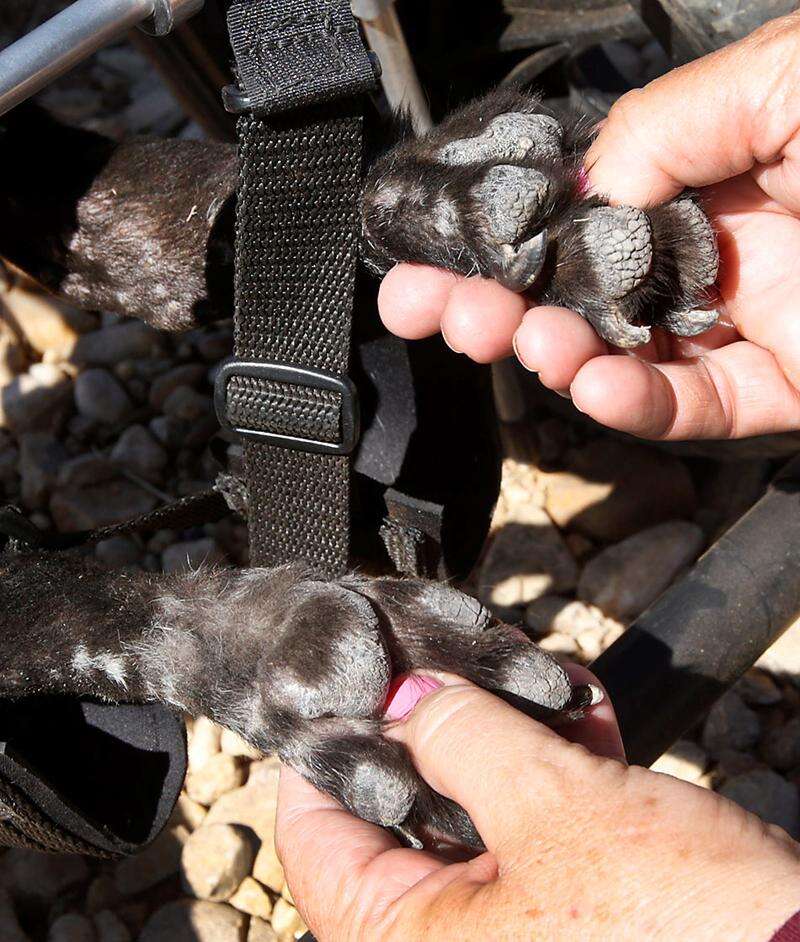 Kelly expects Gil to develop arthritis later in life, because he exerts so much pressure using his front legs. Alvarez-Mroz said to improve his circulation, she massages his spine. She also rotates his hind legs as if he were pedalling a bicycle to promote blood flow to those legs. Kelly said Gil experiences pain in his front limbs and around his spine and takes pain medication twice a day.
But for Alvarez-Mroz, Gil is just another rescue, with a couple more issues than normal.
"He's young, resilient, he's inspiring," Alvarez-Mroz said.
Kelly said his new home on the ranch is exactly what her and her group of volunteers were looking for. They wanted a place for Gil to have room to move and live with other animals, particularly dogs.
"I think we all wanted something ... like a ranch," Kelly said. "So I think we were kind of all putting that out into the universe trying to hope for something like that."
For now, Gil will spend his days at the ranch, but Alvarez-Mroz said she will eventually take him for walks in downtown Durango. He also has earned an impressive following in Arizona including on Facebook and Instagram where people can keep up with the his adventures.
"This is the end of his road," Alvarez-Mroz said. "A new beginning, a new chapter for him."
bmandile@durangoherald.com